Robots have become one of the great protagonists during the COVID-19 virus.
They can't get infected, making them the perfect resource to help us during this critical situation. We generally take advantage of these machines, sometimes even partner with them, to try to get out of this sanitary alert as quickly as possible.
During the last few days we've seen how robots can make a difference in several areas, from helping directly in clinical care to providing social company during isolation.
In this article we introduce some of these popular robotic assistants:
Robots for disinfection
Constant disinfection and hygienization of healthcare environments is a must in the fight against COVID-19, especially since this virus can survive for long durations on many surfaces.
We've seen how several countries have successfully started using robots for disinfection. Hospitals in China have been using more than 2,000 UVD robots, a self-driving robot, which in 10 minutes can kill 99.99% of all viruses and bacteria in a typical patient room. In Hong Kong, the VHP Robot has cleaned up and decontaminated train compartments and stations. This Vaporized Hydrogen Peroxide Robot can operate automatically to disinfect even the smallest gaps of an area. We also find the Tru-D Smart UVC being used in different medical centers across the USA.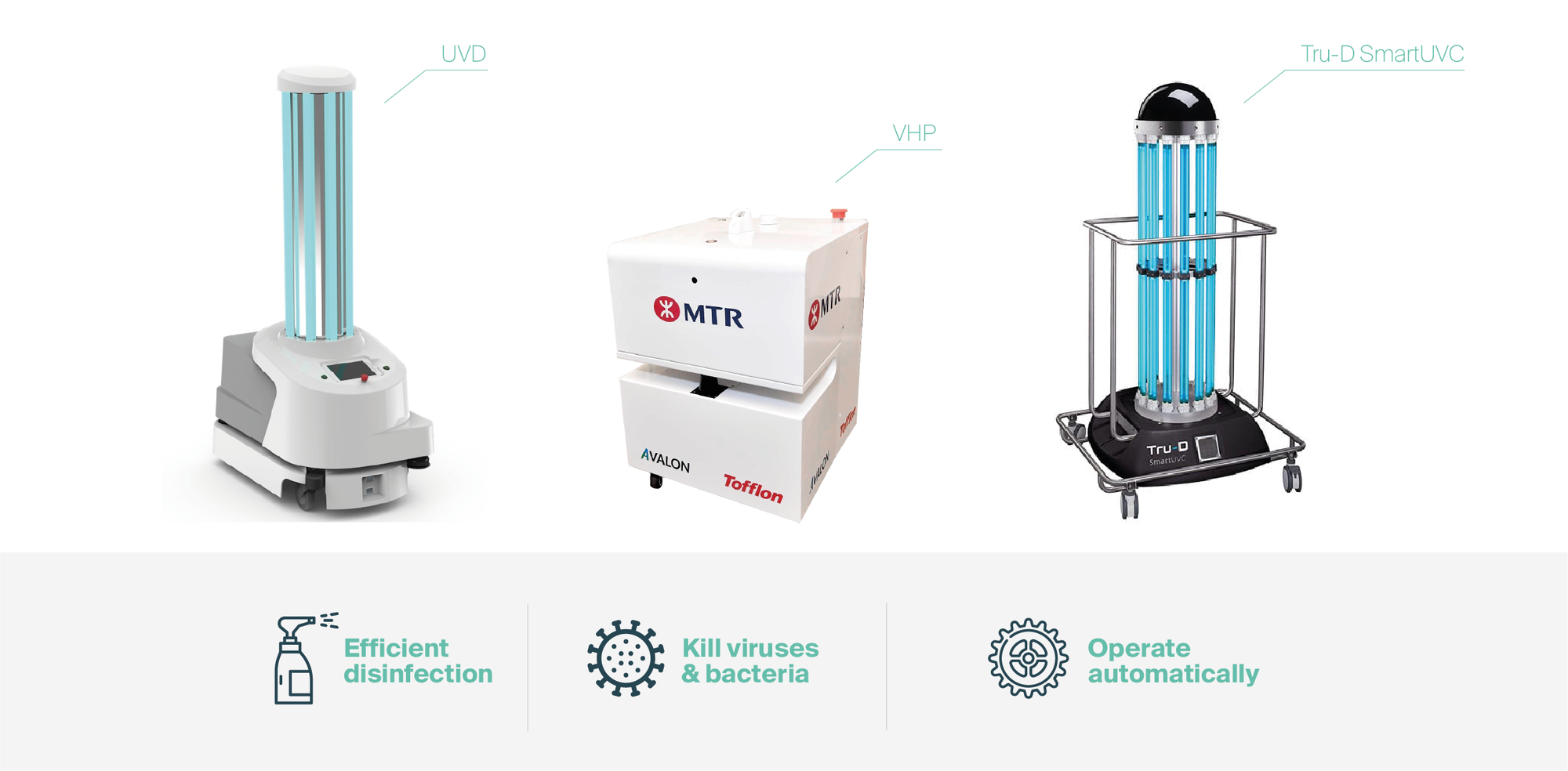 Robots for automated PCR testing
Polymerise Chain Reaction (PCR) testing is the type of diagnosis that's being used most widely to test citizens for COVID-19. Population-scale testing is one of the best ways to combat the spread of this virus and protect the most vulnerable populations. This brings us to the necessity of processing millions of COVID-19 test kits, a task for which many countries have begun to rely on the help of automatic robots.
The fully automated Hamilton workstation increases the speed and efficiency of the testing workflow and is, among others, being used by a biotech company in Massachusetts in the development of a vaccine for COVID-19.
Spain is one of the countries that has resorted to Opentrons automated PCR testing robot to fight against this sanitary risk, which has also been used to rapidly scale testing facilities across the UK.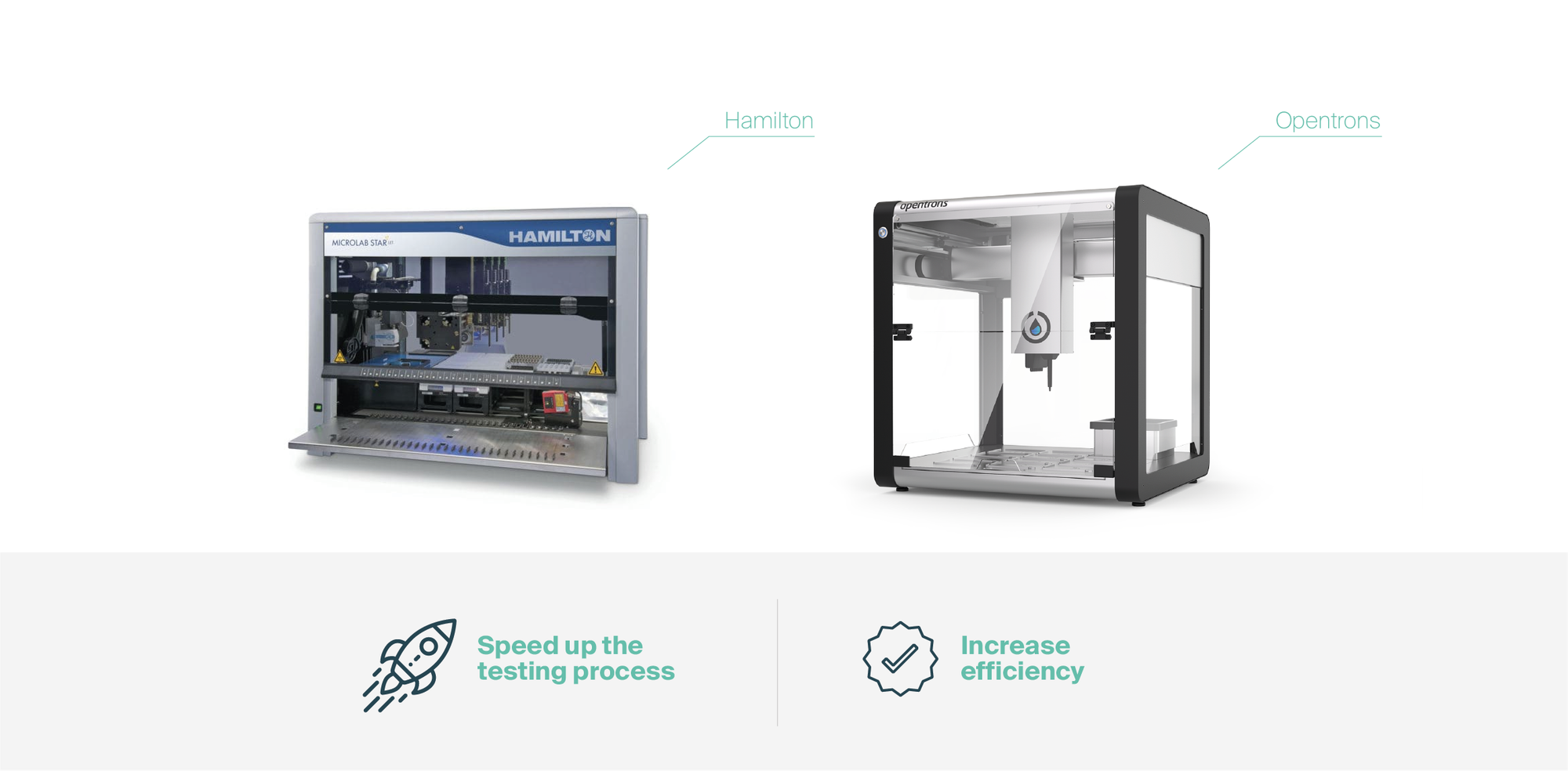 Robots as healthcare staff
The fact that they avoid cross-infection, makes these robots the perfect assistants for directly interacting with patients and reducing the workload of medical staff. This is the case of the Sanbot robot, which has already been used in a hospital in Italy to take care of the most stable patients. This wheeled robot has a touch-screen face that allows patients to record messages and send them to the doctors. We can also find the InTouch Vita robot in hospitals in the USA. In some hospitals in China, the Keenon robot has been autonomously delivering medical supplies and meals for doctors and patients.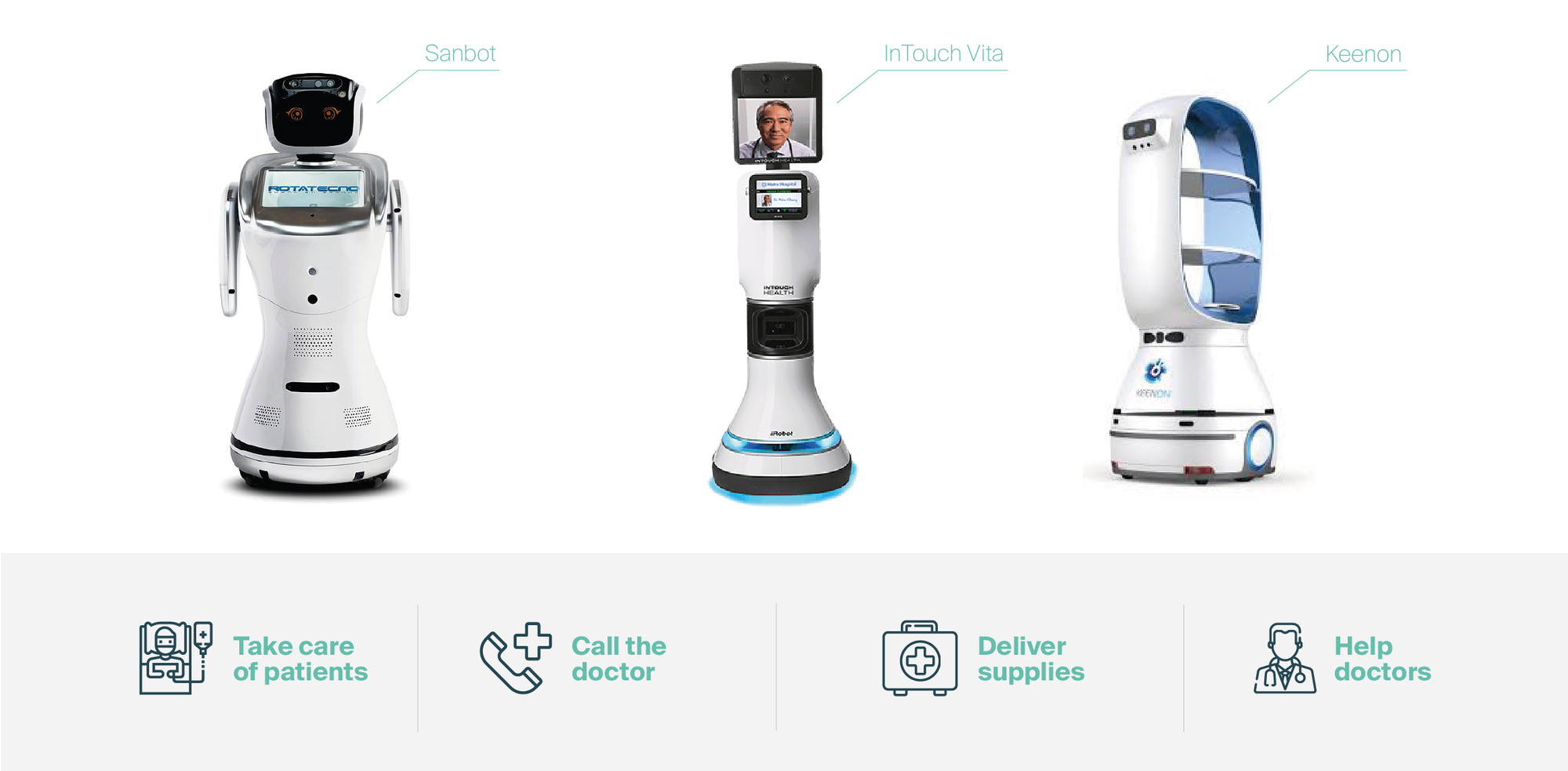 Robots for temperature measurement
In Wuhan, the city where it all began, they have started using SenseTime or CloudMind solutions to check people's temperatures in public areas, ports or entryways of hospitals. We have also even seen drones measuring people's temperatures, from the air, when they look out the window of their homes.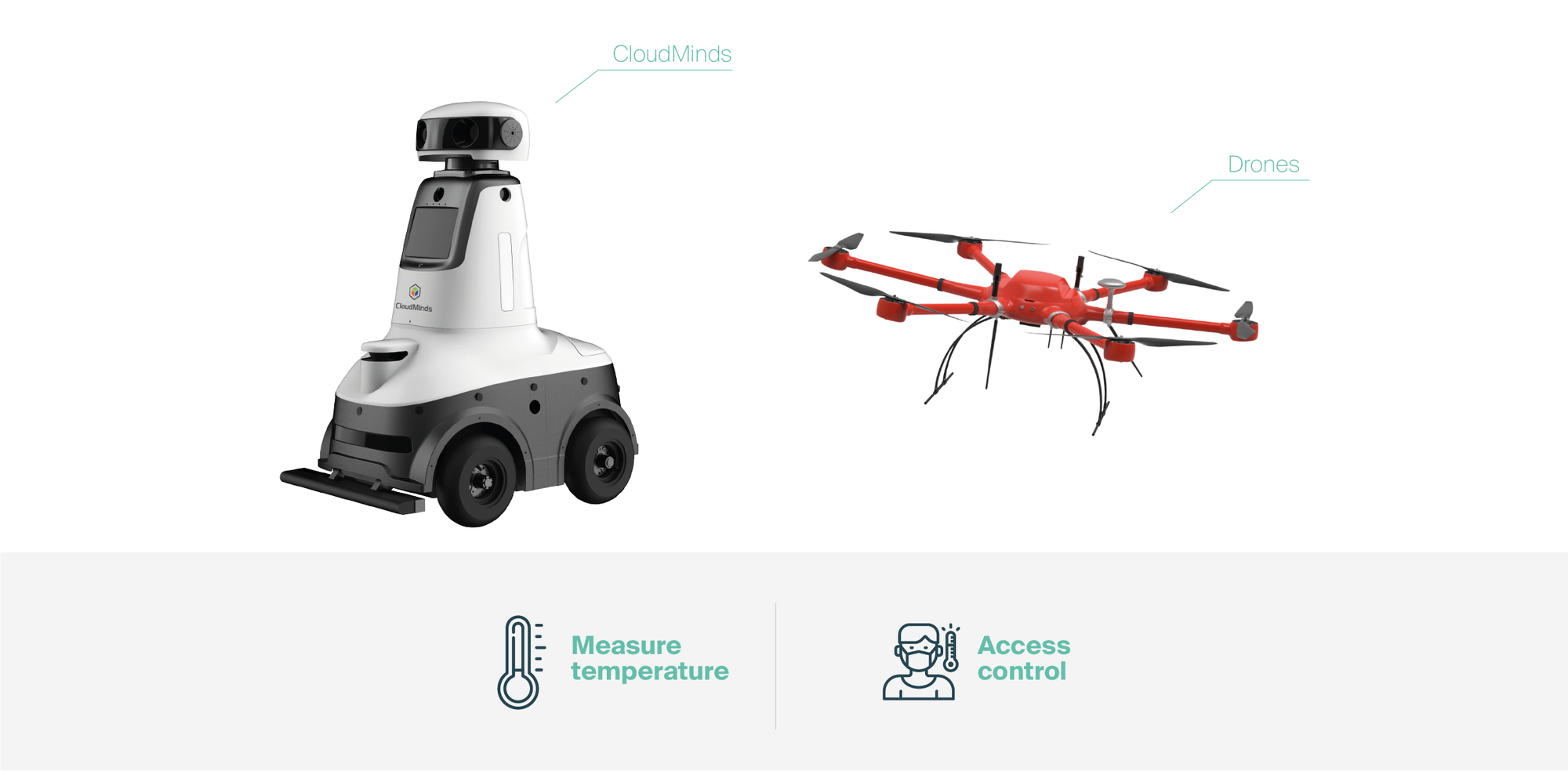 Robots for delivery
Delivery robots, such as the Pudu Technology robot, are being very useful during this sanitary alert. They are not only helping with services in medical centers, but also in bringing food, supplies, and medicine to people confined to their homes. The Peanut robot is, for example, helping a hotel in China deliver food to people who remain confined inside. The so-called robotaxis have also appeared, such as Nuro, a passengerless self-driving vehicle which will be soon on the roads of California delivering groceries and medicines to consumers at home.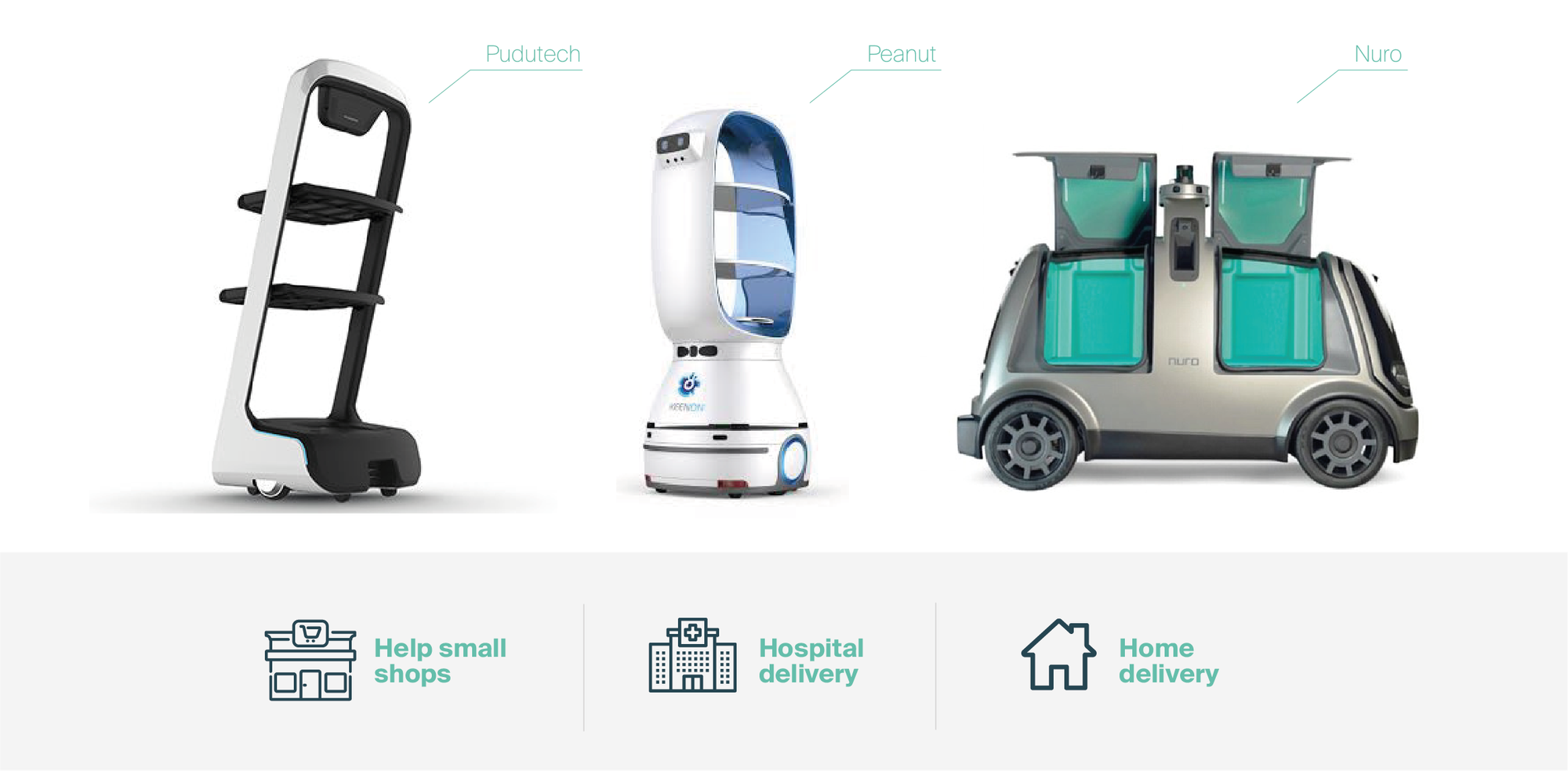 Robots giving us company
Social distancing is one of the main measures taken during the coronavirus outbreak, which has led many people to be isolated and feeling alone. One of the most relevant examples is of the elderly people in care homes, where visits from family and friends have been banned. To make this situation more bearable, Belgian elderly care facilities have introduced a new partner, Zorabot. This is a social robot that helps residents stay connected with the outside world and to their families. The humanoid Cloud Pepper, a service robot with facial recognition and natural language, is another one of the robots that's chatting with humans to cheer up patients in Chinese hospitals.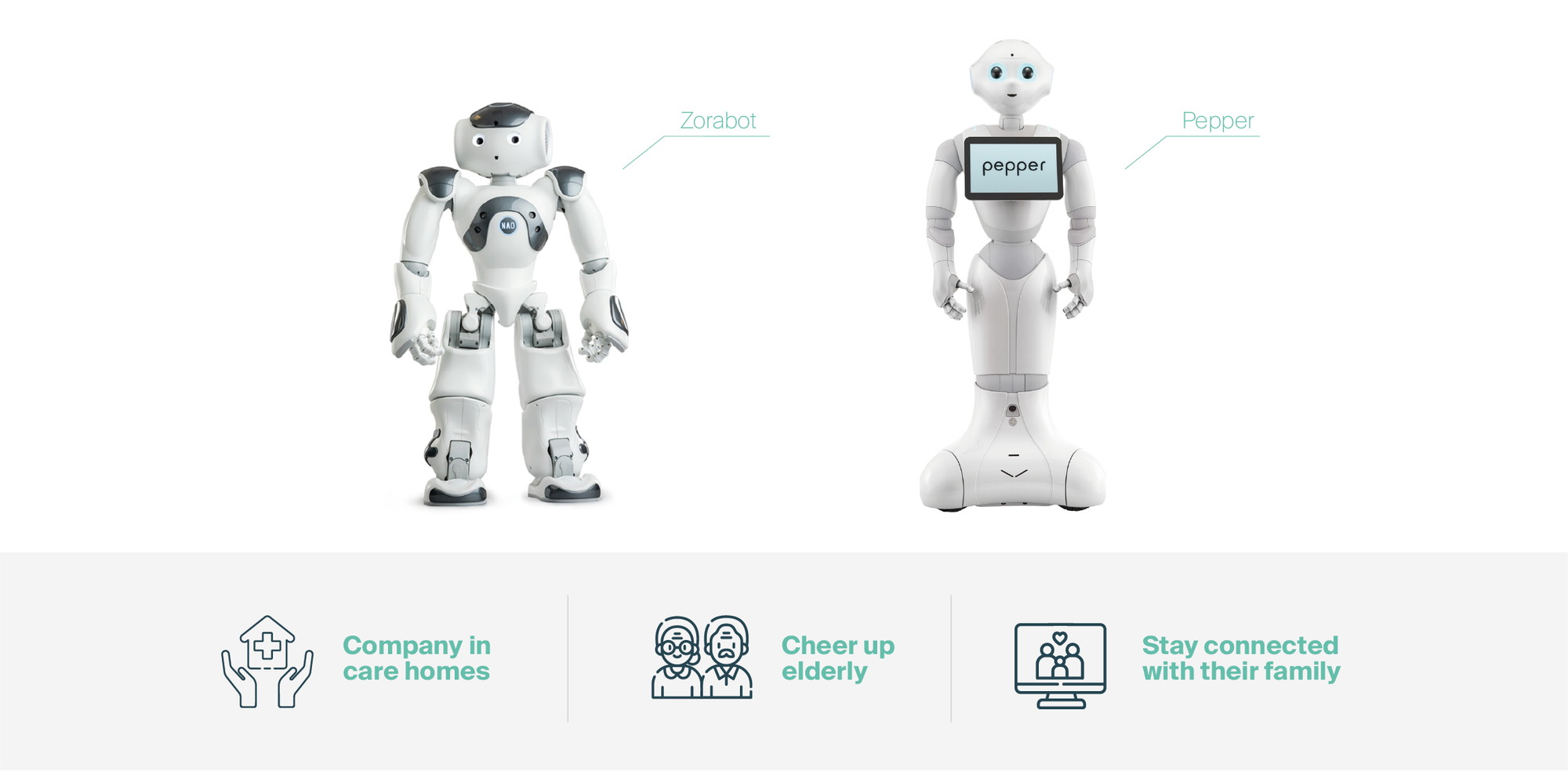 Robots spreading the word
The intelligent robot Pepper has also been warning and reminding shoppers about the security measures they must follow when shopping in a supermarket in Germany. The autonomous RoboAds can also display awareness and instructional videos or connect people via teleconferences in medical centers or public spaces.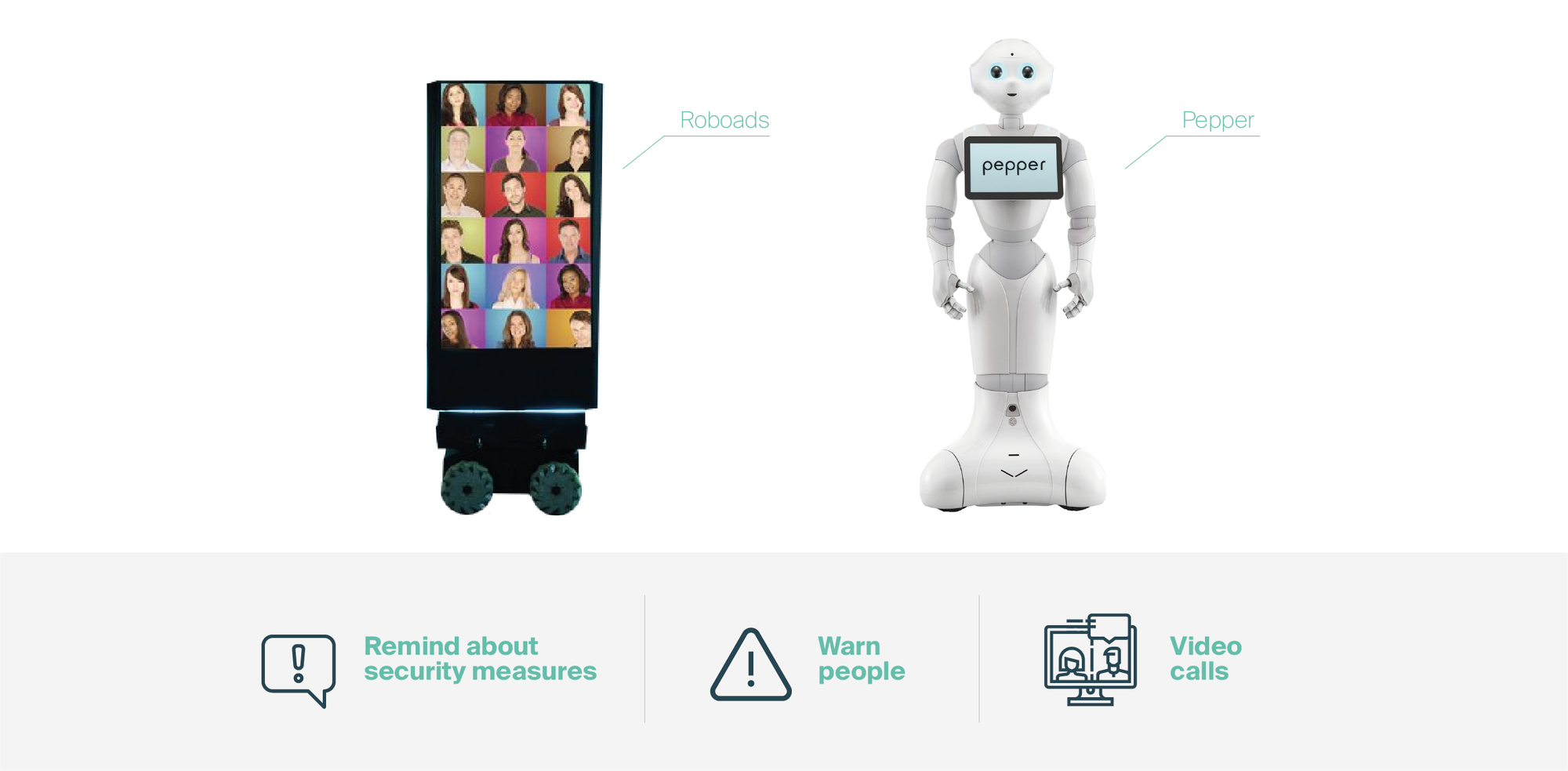 Robots as chefs
Faced with this health risk, many companies are trying to find a safe way to continue offering their products to customers, for which many have relied on robots. CaliBurger restaurants in California are preparing burgers with Flippy, a robot chef from Miso Robotics. Briggo is using their robot barista to prepare coffee ordered remotely via a mobile app from their local customers or hospitals.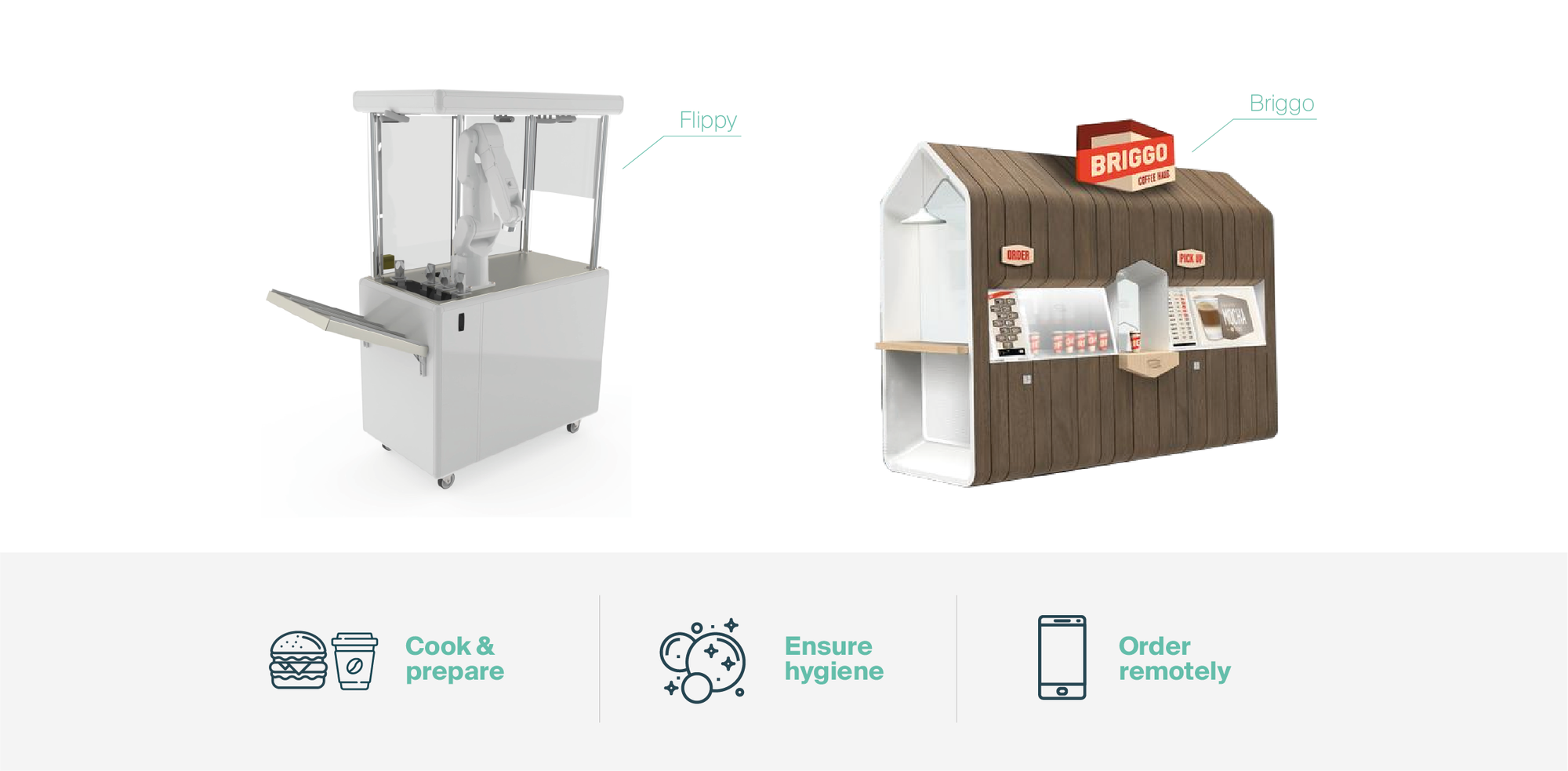 More and more robots
As we've seen, robots are helping us in many different ways to fight against the global COVID-19. We are now realizing the beneficial impact robots are having in our lives. The demand for these machines is increasing exponentially during this disease and will, for sure, continue growing when this situation comes to an end.
Now that the world has seen that robots can help us during critical times, we will start to trust and delegate more to them, so it becomes even more important to make sure they are secure.