RobotUnion, the first pan-European acceleration program fully focused on robotics, has announced the names of the 20 startups entering the first acceleration services. Alias Robotics is among them! Original article published in Robotics Tomorrow.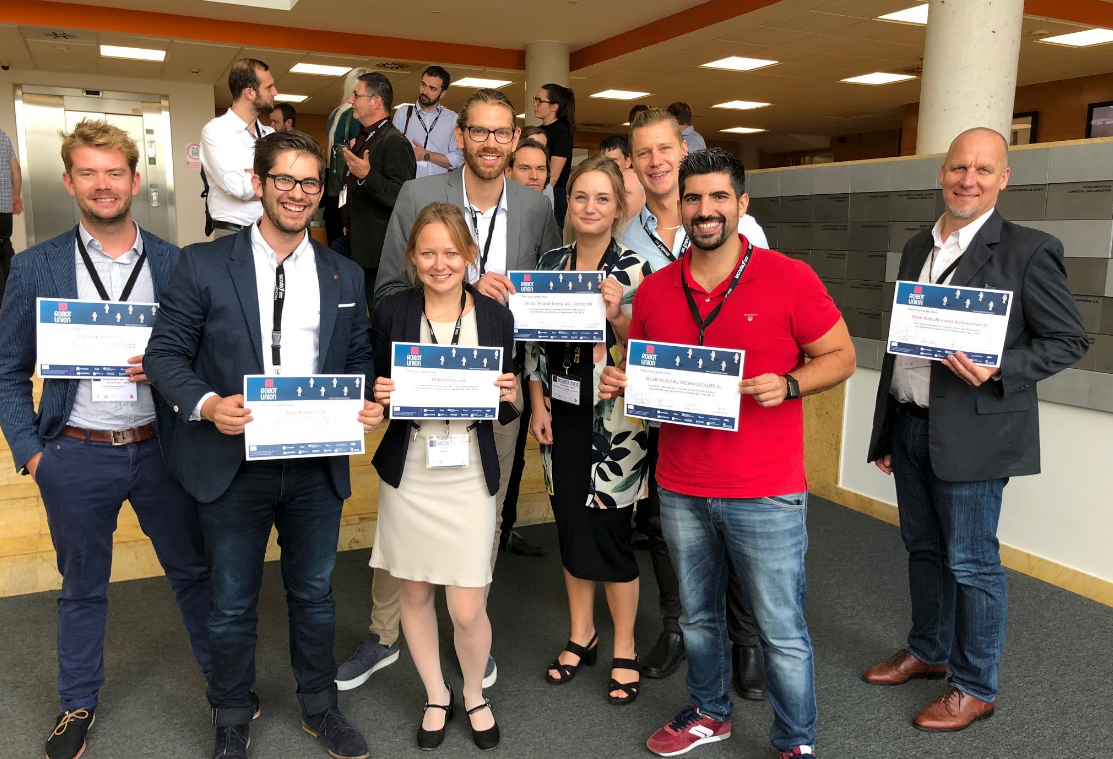 The project led by FundingBox and backed by leading accelerators, venture capital entities and RTOs selected the winners within a Jury Day where 44 startups and SMEs pitched in front of a panel of experts during September 13-14th at Tecnalia's headquarters in San Sebastian (Spain).
The jury was composed by the coordinator of the program (FundingBox), business mentors (ISDI), fundraising mentors (ODENSE Seed and Venture, Blumorpho, Chrysalix Venture Capital), technical coaching providers (Robo Valley, Tu Delft, VTT, MADE), big corporations (Fenin, Ferrovial Servicios, Cluster Empresarial Valle del Ebro Food+i) and technology and innovation centres (Tecnalia, Danish Technological Institute and Mobile World Capital Barcelona). Ultimately, 20 startups and SMEs were selected to enter the acceleration program of RobotUnion's first call.
Each selected company will receive up to €223,000 equity-free for its initial funding stage as well as access to technological support from European robotics experts and business acceleration services. The best-performing companies participating in the programme may obtain an additional €1 million of private investment in funding rounds lead by the VCs Chrysalix Venture Capital and Odense Seed and Venture, with the support of Blumorpho.
The program: from research to setting up
The 20 startups and SMEs selected in the first open call launched by RobotUnion will initiate an acceleration process of 2 to 14 months. For the first time, the participants will be accompanied from their research phase all the way through setting up the business.
After the Jury Day, the acceleration process will begin with the feasibility study and the 20 participants will enter different research and product development stages, where in addition to equity-free funding, the companies will receive extensive technical and technological support provided by the leading institutes in robotics R&D in Europe: VTT Technical Research Centre of Finland, Danish Technological Institute, TU Delft, Tecnalia and PIAP. The participants will also receive business acceleration, led by digital business school ISDI.
The startups selected will take part in a rigorous and personalized training program. A special voucher scheme will be initiated by project coordinator FundingBox, giving accelerated companies access to a range of service providers via a one-of-a-kind marketplace fully dedicated to supporting robotics companies. They also will have access to ISDI's international network of recognized mentors from Google, Airbnb, Ikea, Yahoo, Prisa and Microsoft, among others.
The entrepreneurs will also have direct contact with leaders of agri-food, healthcare, civil engineering and manufacturing sector through the participation of organizations including MADE, Ferrovial Servicios, ARLA Foods and FENIN. RobotUnion will further boost the visibility of startups and SMEs in the robotics sector taking part in top international events such as 4YFN at MWC Barcelona, Automatica Munich, Slush and Web Summit.